Hum and Swish (Hardcover)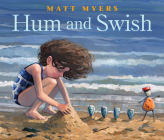 Staff Reviews
---
The pictures in this book are so beautiful. The creativity is inspiring (especially to the adult reading this book aloud). I love how the parents pop over to apply sunscreen. I love how any kid can recognize the frustration that comes from too many adults butting in. The connection and understanding at the end might make you tear up for how touching it is.
— From
Brick 4 Kids
Description
---
Celebrate creativity, introversion, summer sun-- and the beauty of a little peace and quiet!

It's a glorious summer day at the shore, and all Jamie wants is to finish her art project in the sand. A little time to herself is all she needs. But everyone around keeps asking her pesky questions she doesn't know how to answer: what are you making? Aren't you clever?

Jamie does her best to tune it all out and focus on her creation . . . until she finds a like-minded friend, who's as happy to work quietly as she is.

Widely respected artist Matt Myers makes his debut as an author in this charming story about introversion, art, and the quiet joy of finding a kindred spirit. Creative, clever, and funny, Hum and Swish is a perfect summer read-aloud, with detailed, colorful artwork you'll love to pore over.

A Bank Street Best Book of the Year
About the Author
---
Matt Myers has illustrated over a dozen books for children, including Erin Cabatingan's Musk Ox books, Jon Scieszka and Mac Barnett's Battle Bunny, and many more. Hum and Swish is the first book he's both authored and illustrated. He lives with his wife Maya Myers in North Carolina.
Praise For…
---
★ "Readers will connect with the heady, evocative acrylic and oil portrayal of the seashore by Myers (Battle Bunny) in his solo debut—its sharp, bright light; creamy waves; and golden sands. The rush of water, and the smell of sea salt mingled with sunscreen, seems to emanate from every page."—Publishers Weekly, Starred Review

★ "Myers' understated storyline and moody ocean scenes perfectly complement Jamie's introspective world and her desire to follow her own artistic instincts. The story's natural simplicity and Myers' intriguing illustrations make for a kid-pleasing examination of both the joy and marvelous uncertainty of the artistic process."—BookPage, Starred Review

"The illustrator's acrylic-and-oil paintings are as expressive as Jamie's face, with bold brushstrokes that complement the gentle tone of the story using a harmonious color palette of blues and browns. This picture book incites the senses of sight, sound, and touch with the immersive scenery, the titular swish of the waves, and Jamie digging in the sand."—Booklist 

"Myers's full-bleed acrylic and oil paintings take care to depict Jamie not as standoffish or bratty in her rebuffs, striking a balance between images showing her irritation and those showing her in quiet reverie, making art. . . . Myers's thoughtful layout literally gives each artist space, placing girl and woman alone or on facing pages as they work independently, Jamie humming and the woman swishing her paintbrush in a jar of water. A pleasing resolution shows how the child has inspired the adult's art-making, which is affirming of the child herself."—The Horn Book

"Jamie's facial expressions convey her total absorption in her activities, and it's fun to watch the way she inventively incorporates different objects, both natural and found, into her endeavor. This day-at-the-seashore tale also serves as a celebration of creative play and artistic exploration, and a reminder to stop and smell the roses." —School Library Journal