How to Make Your Sock Talk:: A Beginner's Guide to Ventriloquism (Hardcover)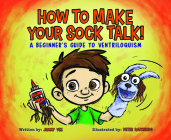 $17.99

Not on hand. Usually Ships in 2-5 Days
Description
---
Grab a sock and let's make it talk.
Ventriloquists and their puppet partners have won the world's largest talent shows, headlined in Vegas, and performed for sold out stadiums.
Now you can learn the secret to this unique and magical art and all you need to start is a simple sock.
In these pages, you'll discover how to create a sock puppet partner of your very own and make it talk without moving your lips in just ten simple steps.
Ventriloquism is a fun way to build self-esteem, bolster confidence and help kids express themselves in ways they never could before.
This engaging picture book, illustrated by former Disney animator Peter Raymundo, brings a fresh approach to teaching the art of ventriloquism and puppetry.
Learning an art ventriloquism enhances concentration, improves communication skills, boosts creativity, increases confidence, develops discipline plus It's a great ice breaker.
Making a sock puppet and learning ventriloquism is a fun family activity and also makes a great gift.
Targeted for children ages 6-14 (and even adults), kids are sure to have a blast and feel empowered as they learn this new and valuable skill.
Kids ages: 5, 6, 7, 8, 9, 10, 11, 12, 13, 14 and 15
--Jimmy Vee.