Books by Horseback: A Librarian's Brave Journey to Deliver Books to Children (Hardcover)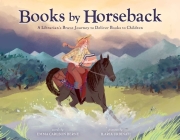 Description
---
"Capturing one librarian's breathtaking fictional journey is a riveting way to showcase and honor the risky work of these real librarians, and the text communicates a deep reverence for their mission-and their tremendous fortitude. Illustrations depict a pale, red-haired librarian, nearly always smiling despite the obstacles that nature puts in her path. Light and shadow are used effectively to convey Mother Earth's shifting moods... Educational and inspiring." -Kirkus Reviews

"The fictional narrative proves captivating as young readers learn the lengths real-life librarians went to serve their communities during the Great Depression." - Publishers Weekly

"Vibrant illustrations anchor this tale . . . of intrepid female librarians delivering books to far-flung isolated homesteads in the rolling hills of Kentucky. The pictures are eye-popping and fill each page right to the edges." - Jon G. Bradley, Historical Novel Society

Books By Horseback is a breathtaking adventure of a heroic Pack Horse Librarian who braves the harsh terrain of rural Kentucky to bring books to children who need them.

Deep into Appalachia, during the Great Depression food, education, and opportunities were scarce. Kentucky had fallen behind its neighboring states in electricity and highways, and the folks who lived in the craggy, mountainous region were struggling to survive. But courageous librarians were up to the challenge!

Edith, a young Pack Horse Librarian, and her faithful horse Dan, adventure through rough terrain and a pending storm in order to deliver books to kids who desperately need them in this richly illustrated tale. Edith, like all Pack Horse Librarians, heroically risked their own safety to serve the most vulnerable members of their community. Librarians like Edith helped an entire generation learn to read and gain lifesaving knowledge in a critical time in history.
About the Author
---
Emma Carlson Berne is the author of many books for young readers. With Appalachian roots going back several generations, she was glad to write about this unique part of history. Emma has worked on projects with Disney/Lucasfilm Press, American Girl Publishing, Simon & Schuster, Scholastic, National Geographic Kids, Lonely Planet Kids, and Sterling Publishing, among others. She was the 2018 writer-in-residence for the Public Library of Cincinnati and Hamilton County. Emma lives with her family in Cincinnati, Ohio where she enjoys reading, horseback riding, and walking in the woods.

Ilaria Urbinati lives in Turin, Italy. She began her career as character designer and colorist for animated television series, before working as a freelance illustrator creating books, apps, and advertisements. Ilaria's previous book with Little Bee Books, Saving the Countryside: The Story of Beatrix Potter and Peter Rabbit, has received great acclaim. Ilaria is also a Professor at IADA University teaching Illustration and visual development. Learn more at ilariaurbinati.com
Praise For…
---
This story of a dedicated Kentucky librarian pays tribute to the Works Progress Administration Pack Horse Library Project of Depression-era Appalachia.
Edith is a packhorse librarian and travels on a daily basis to deliver books to the people who live deep in the hollers of eastern Kentucky. She sets out to deliver a book to 8-year-old William Caudill, who loves tales of derring-do. The trip is a dramatic and challenging one: Edith and her horse brave thunder, lightning, and hard wind and rain, complete with falling trees; slippery mud and steep mountain slopes; rushing creek waters; high mountain ridges a-bristle with thorny branches; and sliding rocks. But Edith's determination is fierce, and she successfully delivers books to the Caudill family, even staying to dry off, warm up, and visit with the family. Capturing one librarian's breathtaking fictional journey is a riveting way to showcase and honor the risky work of these real librarians, and the text communicates a deep reverence for their mission-and their tremendous fortitude. Illustrations depict a pale, red-haired librarian, nearly always smiling despite the obstacles that nature puts in her path. Light and shadow are used effectively to convey Mother Earth's shifting moods. An author's note and bibliography provide further details about the work of these resilient packhorse librarians of the Great Depression: "In the winter...librarians' feet were often frozen to the stirrups." All characters present White.
Educational and inspiring.
— Kirkus Reviews

What an intriguing accolade: "Edith is a packhorse librarian." Vibrant illustrations anchor this tale, aimed at the younger reader ages four to eight, of intrepid female librarians delivering books to far-flung isolated homesteads in the rolling hills of Kentucky. The pictures are eye-popping and fill each page right to the edges. In some cases, the visual impact is heightened with the pictures covering a full two-page spread.
Focusing on travelling librarian Edith and her trusty steed, Dan, readers follow her storm-threatened journey as she ventures forth to bring books to widely separated families in difficult terrain. Appropriately, the text is written in white or black to stand out from the background picture. The narration is clear, focused, and germane to the action.
There is a symmetry between text and picture with each complementing the other. Interestingly, the last two pages provide further information, including a short bibliography, on these travelling librarians in the midst of the Great Depression.
— Jon G. Bradley