How Music Works: The Science and Psychology of Beautiful Sounds, from Beethoven to the Beatles and Beyond (MP3 CD)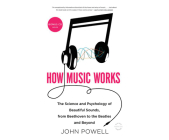 $29.99
Email or call for price.
Description
---
Now, scientist and musician John Powell invites you on an entertaining journey through the world of music. Discover what distinguishes music from plain old noise, how scales help you memorize songs, what the humble recorder teaches you about timbre (assuming your suffering listeners don't break it first), why anyone can learn to play a musical instrument, what the absurdly complicated names of classical music pieces actually mean, how musical notes came to be (hint: you can thank a group of stodgy men in 1939 London for that one), how to make an oboe from a drinking straw, and much more. With wit and charm, and in the simplest terms, Powell explains the science and psychology of music.