The Divine Dance: The Trinity and Your Transformation (Compact Disc)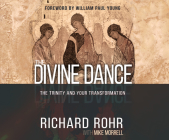 $49.99
Email or call for price.
Description
---
The Trinity is supposed to be the central doctrine grounding Christianity, yet we're often told that we shouldn't attempt to understand it because it's a mystery. But what if we breached that mystery? How might it transform our relationship with God? Although the word 'trinity' isn't found in the New Testament-it wasn't until the third century that it was coined-the idea of the Father, Son, and Holy Spirit was present in Jesus' life and teachings. In the pages of this book, internationally recognized teacher Richard Rohr circles around this paradoxical idea-and circling around is an apt metaphor: early Christians applied the Greek verb for dance to the mystery of the Trinity, saying whatever is going on in God is a flow-it's like a dance.