The Jazz of Physics: The Secret Link Between Music and the Structure of the Universe (MP3 CD)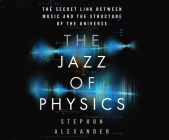 $29.99
Email or call for price.
Description
---
More than fifty years ago, John Coltrane drew the twelve musical notes in a circle and connected them by straight lines, forming a five-pointed star. Inspired by Einstein, Coltrane put physics and geometry at the core of his music. Now, physicist and jazz musician Stephon Alexander follows suit, using jazz to investigate physics. Following in the tradition of the great minds that first drew links between music and physics-Pythagoras, Kepler, Newton, Einstein, and Rakim-The Jazz of Physics visits both the ancient realm where music, physics, and the cosmos were one and Alexander's own life. For, in Alexander's attempts to reconcile and balance his own passion for music and physics, he uncovered a connection between the fundamental waves that make up sound and the fundamental waves that make up everything else-a connection which reveals that, when the ancient poetic idea of the music of the spheres is taken seriously, it can clarify some of physics' most vexing questions.