I Want 100 Dogs (Hardcover)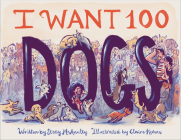 $17.99
Email or call for price.
Description
---
In this funny, feel-good first-pet book, one aspiring dog owner and her parents ponder—in wildly imaginative and hilarious detail—all the best and worst outcomes of bringing home more dogs than you can (literally) shake a stick at.


 

A young girl proclaims, "I want 100 dogs." In a twist, her parents agree, but they have just one question: Where will 100 dogs sleep? Our protagonist revises her request to 90 dogs. But how does one walk 90 dogs? A silly, subtractive counting tale and an over-the-top ode to the joys (and woes) of canine company, this sweet and surprising story proves that no matter how boundless your enthusiasm, when it comes to finding the perfect pet, sometimes less really is more.
 
Written by bestselling author Stacy McAnulty and illustrated with vintage flair by Claire Keane, this clever and funny picture book will be a new favorite for readers and pet lovers everywhere—whether you have no dogs, one dog, or one dog too many!

PERFECT FIRST-PET BOOK: Bursting with humor and charm, this is the book for any child who has ever longed for a pet (or ten . . . or twenty) and for families gently establishing realistic pet expectations. 
 
FUN AND FUNNY COUNTING BOOK: This fun-to-read picture book delivers the extra benefit of being a reverse counting book! Kids will delight in counting down the number of dogs in this clever tale that subtly demonstrates counting by tens. And, yes, you really can count the dogs on each page!
 
GIFT-WORTHY: With its sweet, timeless humor and charming, vintage-style illustrations, this pet book makes a wonderful gift for children, teachers, and dog lovers of all ages. 
About the Author
---
Stacy McAnulty wants 100 dogs but hasn't been able to convince her family—yet! She is the author of more than 30 books for children, including the picture book Earth! My First 4.54 Billion Years and the middle-grade novel The Miscalculations of Lightning Girl. McAnulty lives in North Carolina with her family and as many pups as she can sneak into the house. The count is currently three.

Claire Keane studied graphic design at École Supérieure d'Arts Graphiques in Paris, France, where she lived for eight years until she moved to Los Angeles to work at Walt Disney Animation Studios. During her ten-year tenure there, she designed for Tangled, Frozen, Enchanted, and other films. Now she is the author and illustrator of many books for children, including Little Wonder, Love Is, and Why?
Praise For…
---
"A celebration of canine personalities for dog-loving readers." — Booklist
"Digital illustrations from Keane have a lovely, fluid quality and are a hoot to boot, imbuing each wished-for dog with a vivid personality. The battle of wills is further underscored by astute dialogue from McAnulty, and the final scenes show a happy resolution for all concerned, one that seems to imply the presence of a successful long con." —
Publishers Weekly 
"A humorous, imaginative tale with a comically ironic ending. Who needs 100 dogs when just one cuddly, fluffy, perfect pup will do?" — Kirkus Reviews 
"McAnulty brings humor as well as truth… Keane's illustrations boost the humor in this first-pet tale with telling expressions on the child's and parents' faces." —
School Library Journal
[A] charming picture book about parent-child negotiations." —
Foreword Reviews 
"Comedic scenes of dog bliss versus dog chaos… It's winner takes all here."
— Horn Book Magazine