Hiding in Plain Sight Event at The Boyd Tract
On Saturday, November 7th we will have three different opportunities for you and your family to join author Cindy Groce for an unforgettable reading and activity to celebrate her recently published children's book HIDING IN PLAIN SIGHT.
Choose a time (10:30-11:30, 12:30-1:30 or 2:30-3:30) for the event that will be at THE BOYD TRACT behind the Weymouth Center for the Arts and Humanities (you will get an email with clear directions about where to go).
Included in your ticket purchase is a copy of the book, an experience/activity that will change the way you see trees forever and a goodie bag! One ticket is good for your entire family! (Parents plus children)
This is a book that reminds us to go outside, pause and notice the whimsy of your surroundings. The premise and thoughtful illustrations make this the ideal book for families with children of any age.
We are never too young or too old to appreciate the beauty and fun that exist around us!
Event date:
Saturday, November 7, 2020 - 10:30am to 3:30pm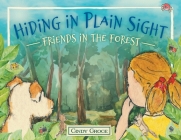 $16.95
ISBN: 9781087899206
Availability: On Our Shelves Now
Published: Indy Pub - August 10th, 2020
Nature has an amazing sense of humor If we have eyes to see and a keen imagination, a walk outside can reveal a whole world of 'new friends'.
---